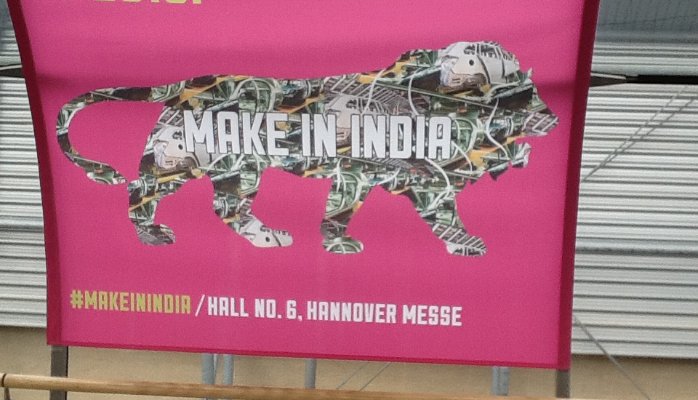 On Monday this week I had the honour and the pleasure of moderating a panel discussion between the chairmans/chief executives of Siemens, Tata Sons, Bharat Forge and Schaeffler AG as part of an Indo-German business summit at the Hannover Fair in Germany in the context of the "Make in India" campaign. The discussion followed a rousing speech by Prime Minister Narendra Modi in which he re-emphasized his invitation to German businesses to come to India and witness the "Winds of Change".
Make in India is a rallying call designed to reinvent India as location for manufacturing – and so much more. Make in India integrates digital technologies, smart city concepts, renewable energy resources, transparent government, gender diversity and training initiatives to bring skills and know-how to the 10 million young people that enter the job market each year. It is a grand initiative that is taking on among others established tradition and bureaucracy, the legal system, the labour market and land administration while making the most of India's unique gifts and resources. A peaceful revolution if you will, driven from within with passion and purpose, towards a common goal that is shared by government and citizens – bringing about well-being for the whole nation.
With India as partner country of this year's Hannover Fair, every visitor will be able to experience this passion and purpose. The Make in India lion is omnipresent and truly tells the story of India's huge dormant potential with creativity and inspiring images and words. What is more, the lion transmits the determination of the Modi leadership team to make the most of this potential and honour the trust bestowed upon it by the population. Remember, barely 11 months ago this leadership team was democratically elected with a record turnout in what came to be known as historic shift away from the previously ruling Congress party that had dominated India's journey since the days of independence.
During my many years as journalist, I personally have never seen a more successful and well received initiative, especially across digital platforms. To date, the Make in India Facebook page has almost 3.5 million fans – every 3 seconds a new member is said to join the page. Bear in mind, this is the Facebook page of a government initiative, not of a footballer or celebrity. Meanwhile companies and countries are lining up in the East and in the West to follow Prime Minister Modi's invitation and commit to invest. With good reason and perfect timing: India has been called the "bright spot" among emerging market economies. Its growth rate is expected to accelerate just when neighbour China is experiencing a slow down, while fellow BRIC members Brazil and Russia battle with their own economic woes.
It is too early to know for sure if and when the Make in India campaign will achieve all that is being promised. My panel of business leaders was in agreement that much needs to be done and that it will take time and effort. We did though observe that change is indeed underway, driven by passion, determination, integrity and focus – all of which are bound to bring about abundant and powerful results.
Energy flows where attention goes.
May the Lion bring well-being to the great nation of India, and thus to all of mankind.
You can read the full text of Pm Modi's speech here: http://www.ndtv.com/india-news/pm-narendra-modis-speech-at-indo-german-business-summit-full-text-754555
Make in India website: http://www.makeinindia.com
Hannover Fair website:  http://www.hannovermesse.de/home