About.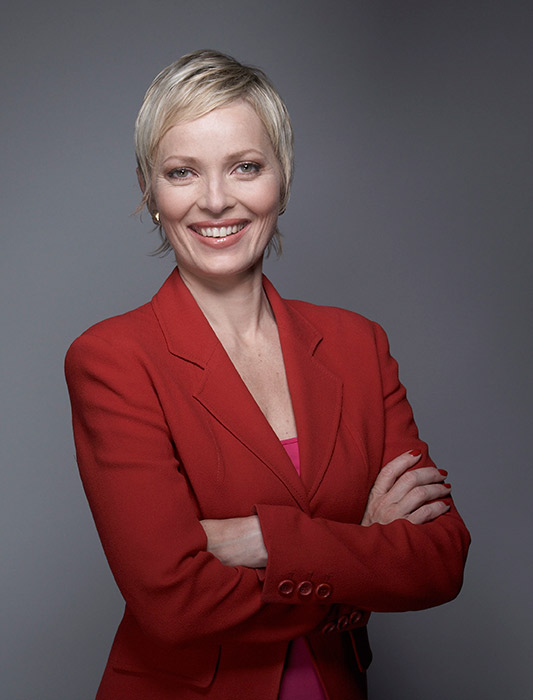 Judith Bogner is a  television presenter, event facilitator and commentator for international finance, business and geopolitics based between the UK and Germany. For more than ten years she was one of the main European anchors of the financial news channel Bloomberg Global Television in London. Since 2012 Judith runs her own business, offering event and business facilitation, mediation and commentating. Since 2014 Judith has expanded into acting: in July 2015 she celebrated her debut on the big screen as the "Chancellor's Wife in Mission Impossible 5 "Rogue Nation".
Judith regularly leads public and private events for corporate and institutional clients in the financial sector and beyond. Her list of clients include the Federation of German Industries, the Euro Finance Week (Frankfurt), the Brewers of Europe, Bank of New York Mellon, Luxembourg for Finance, the Dutch Development Bank FMO, Ergo Insurance, State Street, Scope Ratings, the Institute of Culinary Art, Allianz Global Assistance, Wacom and the Thomson Reuters Foundation.
Some recent examples: Since 2014 Judith has been serving as Master of Ceremony for the annual Luxembourg Renminbi Forum, the Eurozone's flagship event for doing business in Renminbi. At the Hannover Fair 2015 she joined the Indo-German Business Summit with Keynote Speakers Chancellor Angela Merkel and India's Prime Minister Narendra Modi and hosted a panel discussion with Joe Kaeser (Siemens), Cyrus Misty (Tata Sons), Baba Kalyani (Bharat Forge) and Klaus Rosenfeld (Schaeffler AG). At the Euro Finance Week 2016 in Frankfurt Judith co-hosted the  opening day's "German Banking Panel" with the top 7 German banking CEOs, facilitated the European-Chinese Banking Day as well as the Faros Institutional Investors Forum with special guest speaker ECM council member Yves Mersch.
Between May 2001 and October 2011, Judith anchored and reported for Bloomberg's top European-based programs as well as for partner media outlets Bloomberg UTV India, Bloomberg HT Turkey, N24 and F.A.Z. Radio in Germany. She conducted countless interviews with market players in the international financial community as well as political and business leaders, such as current and former head of the European Commission Jean-Claude Juncker and Jose Manuel Barroso, Dieter Zetsche (Daimler), Peter Brabeck-Letmathe (Nestle) and Sir Martin Sorrell (WPP). The Global Financial Crisis that began in 2007 with increasing losses by investment funds from mortgage-backed securities took her career as financial news presenter to a whole new level: during 2008 and 2009 she hosted "Credit Quake: Europe on Edge", a series of special shows that covered all aspects of the Subprime Crisis, the collapse of Lehman and the subsequent fallout in financial markets. The program was shortlisted for the 2009 AIB Awards.
Judith was born and raised in Weiden in der Oberpfalz, a small town in Bavaria, Germany. In 2001 she made her home in Greater London, UK, after having lived in China, Ukraine, France, Italy and Switzerland. She studied in Germany and China and holds a degree of Bachelor of Arts from the University of Applied Sciences in Bremen and a degree in Hotel & Restaurant Management. Judith is bilingual in English and German, furthermore she speaks Italian, French and Mandarin Chinese.
Judith is an accredited mediator and member of the UK's Civil Mediation Council.
Judith is also trained and certified as Shamanic Practitioner and Kundalini Yoga teacher. In this capacity she offers sessions to private clients and groups as well as talks on how to achieve and maintain balance and well-being amid life's changes and challenges.
In her spare time, Judith enjoys working as voiceover artists and classic model for commercials as well as writing for her blog. If and when time allows, she swaps high heels for wellies and tends to the plants and bees in her family's Bavarian home.
CV:
07/2015
Chancellor's Wife in "Mission Impossible – Rogue Nation"
05/2013
Accreditation as Mediator
Since 2012
Independent Moderator, Commentator and Facilitator for International Finance, Business & Geopolitics (based in Greater London, UK)
05/2001 – 11/2011
Presenter/Anchor Bloomberg Global Television (UK/ International)
1999 – 2000
Project Manager Production of Luxury Leather for Goods Gruppo Pelle Italia (Italy/Ukraine)
1998 – 1999
Relocation Manager for Schenker International Shanghai (China)
1992 – 1993
Receptionist Hotel Le Richmond Geneva (Switzerland)
1993 – 2000
Bachelor of Arts in International Business Management & Mandarin Chinese (Germany)
(Title in German: "Diplom-Wirtschaftssinologin")
Bremen University for Applied Sciences
East China Normal University Shanghai
University of Passau
1988 – 1992
Degree in Hotel & Restaurant Management (Germany & Switzerland)
(Title in German: "Hotelfachfrau")
Schweizer Stuben, Wertheim-Bettingen
Hotel Quellenhof, Bad Ragaz
Bavaria Hotelfachschule Altötting